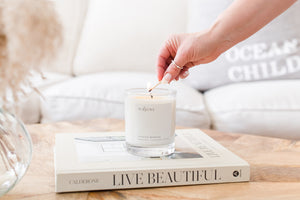 OUR MISSION
To evoke memories and emotions with fragrance.  Providing superior quality goods that inspire through connection and the most compelling shopping experience.  With a commitment to choosing and crafting products with the least environmental impact and supporting U.S. makers and craftspeople.
OUR VISION
To bring inspiration to our communities & opportunities to create the life they love.
Sea Love
Love Club
At Sea Love, it's always our mission to ensure that we are providing top-notch quality and bringing the best value to our customers.
Our new program will include revamped subscription tiers, VIP early- access to new scents and products, members-only perks, enhanced rewards, greater variety, and, of course, the Sea Love fragrances you love. 
BIG CHANGES ARE COMING
Pour a Candle
CREATE YOUR PERFECT SCENT
Our custom scent blending experience allows you to create your own candle or reed diffuser from your choice of over 100 different fragrance oils.